Physiopathology of cardiovascular and respiratory diseases, Development and Senescence
Cardiovascular and respiratory diseases are becoming increasingly prevalent in most countries, generating major disability and cost burdens for society. Strong and tightly coordinated research efforts are needed to advance the comprehension of these diseases with the goal of improving and developing therapies. These efforts must include translational research strategies, as well as basic research on underlying cellular and molecular mechanisms, including evaluations of cellular senescence, cellular mechanics and genetics, developmental processes, and morphogenesis.
PHYDES is a translational research department structuring research dedicated to pathoPHYsiology of cardiovascular and respiratory diseases, DEvelopment and Senescence. It covers the activities performed in the hospital and university department, A-TVB (Ageing, Thorax, Vessels, Blood) of the Henri Mondor Hospital and UPEC (Université Paris-Est Créteil), from ageing to the genetic and biomechanical aspects of cardiovascular and respiratory diseases, red-blood-cell and some congenital diseases.
PHYDES is composed of six teams whose research is dedicated to the investigation of the molecular mechanisms relevant to the pathophysiology of major diseases.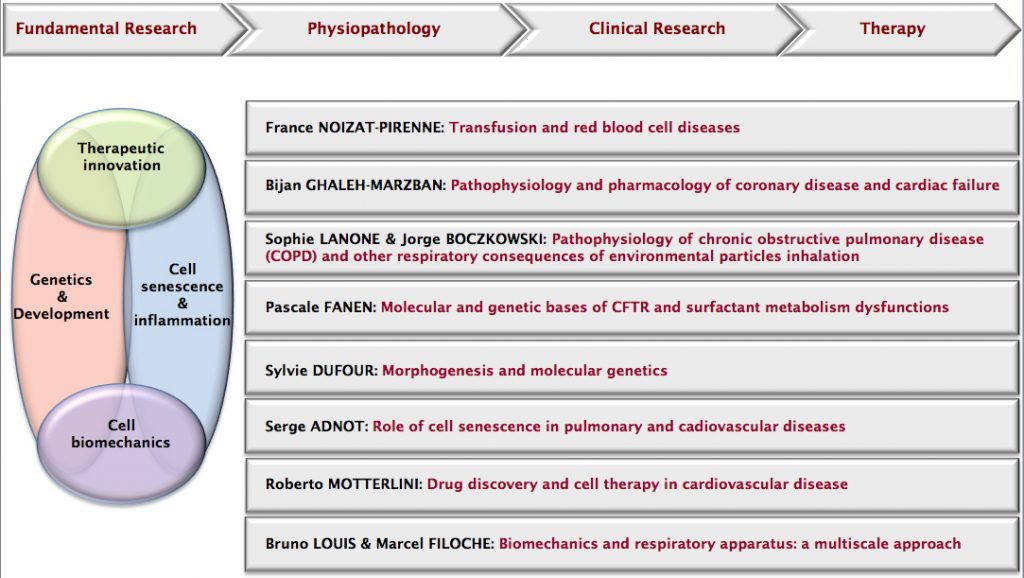 The goal of the PHYDES department is to develop:
– Basic and translational projects related to major aspects of cardio-thoracic medicine such as myocardial ischemia and heart failure, systemic and pulmonary vascular diseases (including consequences of genetic red-blood-cell diseases, and pulmonary hypertension), acute and chronic respiratory failure (including smoking- and occupation-related COPD), genetic respiratory diseases (cystic fibrosis and ciliopathies), and physiological and pathological aspects of neural crest development
-Training in cardio-thoracic research of students having both medical and scientific backgrounds, in particular at the doctoral level
– Technology transfer in the fields of cardio-thoracic medicine.
PHYDES is promoting scientific animation and interactions between teams which develop complementary approaches and research to study the molecular and cellular mechanisms shared by these diseases such as cell senescence, inflammation, and biomechanics, as well as the molecular and cellular bases of chosen human genetic disorders with the aim of developing high various innovative therapeutic strategies as well as new and personalised treatments and to attract new teams to reinforce the basic and translational research on the diseases of interest.