Congratulations to Khadeeja SY, PhD student in Sophie Lanone's team, who won the prize for the best oral communication at the 24th young researchers' conference organized by Vaincre La Mucoviscidose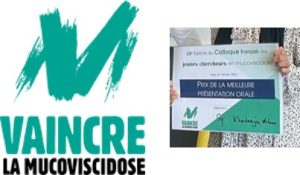 Khadeeja Adam SY, received the award for the best oral communication for the presentation of her work on "Impact of lipid mediators of the resolution of inflammation on the colonization of respiratory epithelial cells by Aspergillus fumigatus" at the 24th Colloquium of Young Researchers organized by Vaincre La Mucoviscidose, this Tuesday, February 7 at the Imagine Institute in Paris.
Cystic fibrosis is characterized by chronic respiratory infections associated with excessive inflammation and inefficient pathogen elimination. Among them, the filamentous fungus Aspergillus fumigatus is predominant and strongly impacts the prognosis. In this disease, lipid mediators that orchestrate the active resolution of inflammation (SPM for Specialized Proresolving Mediators), such as lipoxins, resolvins and protectins, are produced in insufficient quantities.
The works of Khadeeja SY, co-directed by Valérie Urbach (Lanone team), and Françoise Botterel (UR DYNAMYC UPEC), show that SPMs stimulate, in vitro, the capacity of nasal epithelial cells from patients to limit the growth of the fungus and to protect their intercellular junctions.
These data suggest that abnormalities in the biosynthesis of SPMs in cystic fibrosis contribute to the reduced capacity of the airway epithelium to combat colonization by A. fumigatus and open new therapeutic avenues.