Congratulations to François LEMONNIER and Marie-Hélène DELFAU-LARUE on the publication of the ALYCANTE phase 2 trial in Nature Medicine!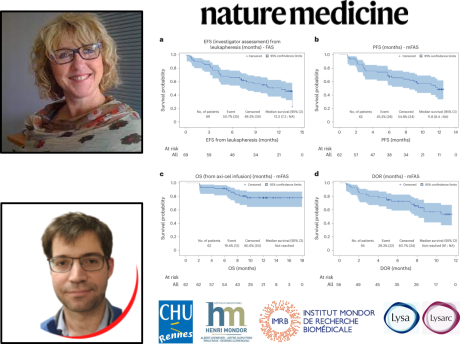 The ALYCANTE study, coordinated by Pr Roch Houot (CHU Rennes) and Pr François Lemonnier (Hôpitaux universitaires Henri Mondor and Institut Mondor de Recherche Biomédicale, Nicolas Ortonne's team) is the first academic clinical trial using CAR-T cells to treat lymphoma in France.
This trial, sponsored by the cooperative Lymphoma Study Association (LYSA/LYSARC), evaluated the use of a CAR-T cell, axicabtagene ciloleucel, in patients with second-line large-cell B lymphoma ineligible for hematopoietic stem cell autologous transplantation.
This at-risk population had a poor prognosis in historical series, with short survival and no reference treatment. The ALYCANTE study largely achieved its primary objective, with a 3-month complete remission rate of 71% versus 12% in historical series. After a median follow-up of 12 months, progression-free survival was 11.8 months, and overall survival at 12 months was 78.3%. The toxicity profile was acceptable in this high-risk population.
This study also enabled Pr Marie Helene Delfau-Larue and her team (Immunology Laboratory, Henri Mondor University Hospitals) to clarify the value of monitoring circulating tumor DNA as a predictive marker of response in this CAR-T cell-treated population, confirming the promising aspect of this approach.
All in all, these very favorable results have made it possible to extend early access to axicabtagene ciloleucel to all patients in second-line treatment, regardless of their eligibility for autotransplant, thereby improving the prognosis of these patients.
Access to the article published in Nature Medicine on September 14, 2023