Mass spectrometry
Presentation :
The separation power of gas chromatography combined with the selectivity and the very low detection limits of the platform's mass spectrometers (of the order of the femtogram for certain compounds), allows the quantitative analysis of complex volatile molecules with a high degree of confidence, whatever the nature of the matrix (human, animal or other; serum, plasma, tissue, cord blood, urine, …). If the expertise of the platform is mainly based on the measurement of steroid hormones, the development of custom methods could be considered after the feasibility study for a large number of molecules distinct from steroids (pharmacological compounds and their metabolites, endocrine disruptors, pesticides, fatty acids, …).
The IMRB's steroid mass spectrometry platform is located on the 1st floor of the Faculty of Medicine (room 1051).
Thank you for preferring email over phone for the first contact and briefly develop your expectations.
Keywords :
Mass spectrometry, steroids, endocrine disruptors, volatile molecules
Main equipment :
| | |
| --- | --- |
|  GC 2010 Plus Shimadzu coupled with an MS/MS TQ8050 Shimadzu (Software GCMS Analysis) | Example spectrum processing on Labsolutions Insight on GC-MS/MS Shimadzu |
|  GC 6890N Agilent coupled with an MS 5973N Agilent (Software ChemStation) |  Example of spectrum processing on GCMS Agilent (Software ChemStation) |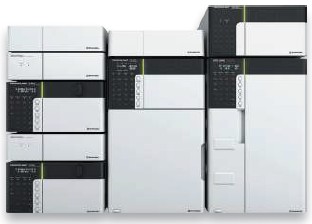 Shimadzu analytical/semi-prep HPLC with automatic injector, diode-array detector (190 to 800 nm) and fraction collector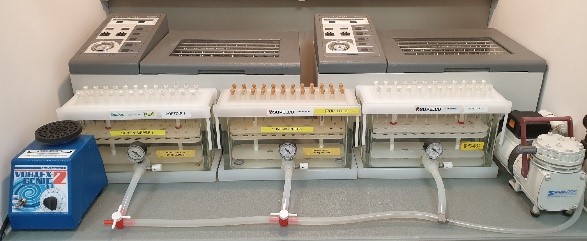 SPE purification station on Visiprep tank and evaporation by Caliper TurboVap LV vortex concentrator.

Freeze dryer Christ Alpha 1-2
Selected publications