Cell culture labs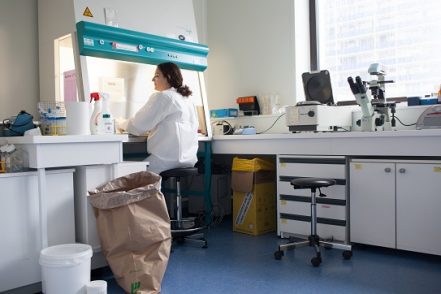 The IMRB has seven L2 platforms and one L3 cell culture platform spread over the Henri Mondor Hospital and the Faculty of Medicine of Créteil.
These type 2 confined laboratories comply with the recommendations issued by Inserm. These premises are separated from the circulation areas by an overpressure airlock which gives access to experimental boxes in depression. The air is treated by a system of HEPA filters on both the supply and return sides.
They are equipped with type II Microbiological Safety Stations (MSS) according to EN 12469.
L2 laboratories are therefore authorised to handle samples and cells of human origin and class 2 GMOs.
The L3 laboratory is intended for the handling of human specimens infected with category 3 pathogenic organisms. The L2/L3 are made available to the various research teams on the site, to any laboratory working in collaboration with one of these entities and also open to private companies.
---
Services :
Provision of a work station including the use of a PSM type II, an incubator, a combined fridge-freezer and the usual cell culture equipment (microscope, centrifuge, …).
Location :
At the Faculty of Medicine of Créteil
on the 5th floor room 539
on the 3rd floor rooms 3028 and 3029
At the Hospital, Research Building
on the ground floor room AA.108
on the 1st floor AA.001, AA.076, AA.097
Rates :
The fee for the provision of a workstation is set each year by the Secretary General of the Research Centre according to the platform's operating costs. Rates are available from the platform's referents.
Documentation :
The documents for agents provided by the L2/L3 platform can be found in the data library on the platform's homepage.
---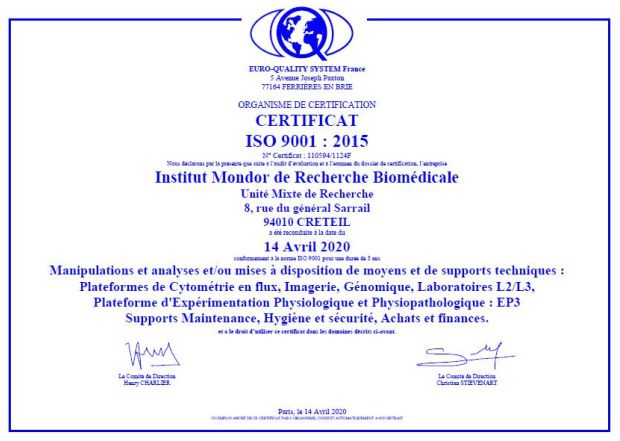 The ISO 9001 standard defines a series of requirements concerning the implementation of a quality management system in an organization, whatever its size and sector of activity.