Rituximab-resistant memory B cells contribute to relapse in adult patients with immunological thrombocytopenia: A study led by Professor Matthieu Mahevas, Pirenne team at IMRB and published in Science Translational Medicine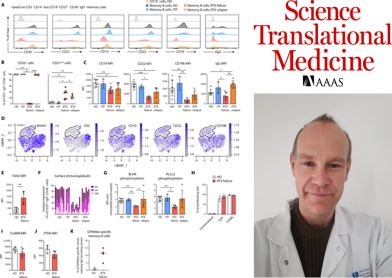 Teams led by Prof. Matthieu Mahévas of the Reference Center for Autoimmune Cytopenias in Adults and the Mondor Institute of Biomedical Research (Henri-Mondor Hospital AP-HP/Inserm/University of Paris-Est Créteil), Prof. Jean-Claude Weill and Dr. Claude-Agnès Reynaud at the Institut Necker-Enfants Malades (Inserm/CNRS/University of Paris) studied the presence of self-reactive memory B lymphocytes before and after rituximab treatment in adult patients with immunologic thrombocytopenia (ITP), a rare autoimmune disease.
The results of this study, which is published in the journal Science Translational Medicine on April 14, 2021, show, among other things, that a fraction of self-reactive memory B cells to platelet antigens is resistant to rituximab treatment, persists in the spleen for several months and participates in relapses. The discovery of these cells could open new therapeutic avenues. (source CP APHP).
Press release from the APHP
Link to the article published in Science Translational Medicine on April 14, 2021