Paris-Est-Sup Thesis Prize: Congratulations to Perla GEARA, IMRB-Relaix team, winner for the Life and Health Sciences ED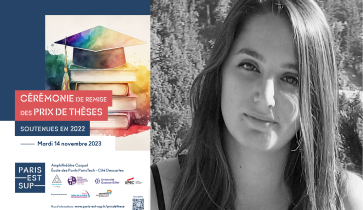 On 14 November 2023, Paris-Est Sup is organising its awards ceremony for theses defended in 2022 at the École des Ponts ParisTech – Cité Descartes (Amphithéâtre Caquot).
Each year, the Paris-Est Sup Dissertation Prizes are awarded to each of its doctoral schools for the best work by the site's doctoral students, shortlisted from among the previous year's graduates for its quality, originality and impact on society.
Perla GEARA, Frédéric RELAIX's team, will receive the prize for her study of the mechanisms that regulate the transition from quiescence to activation of skeletal muscle stem cells.
Award ceremony for Paris-Est Sup theses defended in 2022
Tuesday 14 November 2023 – 3.30pm
Caquot Amphitheatre – Coriolis Building
Cité Descartes
École des Ponts ParisTech
10 Avenue Blaise Pascal
77420 Champs-sur-Marne