EUR LIVE Graduate School of Research: first series of videos on EUR-LIVE's scientific activity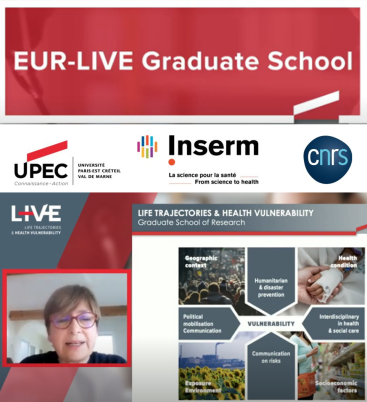 In partnership with INSERM and CNRS, "EUR-LIVE" is a project designed within the framework of the "Investissements d'Avenir" (PIA) projects and supported by the ANR. EUR-LIVE (ANR-18-EUR-0011) aims to combine the know-how and research contributions of multiple disciplines to address vulnerability in all its facets, by creating a University Research School at UPEC.
See below the first scientific videos available on the UPEC Youtube website. You can find several members of the IMRB:
Geneviève Derumeaux (Derumeaux team) and Pascale Fanen (Lanone team), in the presentation video, click here. Florence Canouï-Poitrine (Bastuji-Garin team), Sophie Hüe (Lévy team), in the video "Vaccine against COVID-19", click here . And finally Zeinab Mezdari (Derumeaux team) in the video "Ageing, an example of vulnerability", click here
You can find all the news about EUR-LIVE on the LinkedIn and Twitter networks below.
On Twitter: https://twitter.com/UPECactus/status/1382687036356837380
On LinkedIn : https://www.linkedin.com/feed/update/urn:li:activity:6788430815366782976/
A call for applications will soon be published for doctoral and master's scholarships in the framework of EUR-LIVE (early May for PhDs, and early June for masters).
Full video links: