Congratulations to Yannis Djeffal, PhD student in Frédéric Relaix's team who receives the Line Pomaret-Delalande 2021 Prize (FRM Prize) for his thesis work on the understanding of the biology of muscle satellite cells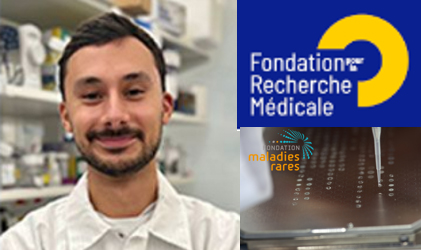 This prize, worth €105,600, comes from a donation by Sylvie Pomaret. Created in memory of his mother, it is intended to support research on rare diseases and finances a 3-year doctoral contract.
Yannis Djeffal is pursuing a double degree in Medicine and Science. He is doing his doctoral work in science under the joint supervision of Prof. Frédéric Relaix, at the Mondor Institute of Biomedical Research, in Créteil,and Prof. Olivier Pourquié, at the Harvard Stem Cell Institute, in Boston, USA. He is studying the regenerative potential of muscle.
"Adult skeletal muscle has incredible regenerative potential. Satellite cells are muscle stem cells that can regenerate muscle after injury. My project is to characterize the development, heterogeneity and regeneration potential of human muscle stem cells. My goal is to pave the way for the development of new cell therapy protocols to treat muscle diseases."