Artificial intelligence compensates for the limitations of the human eye in the treatment of liver cancer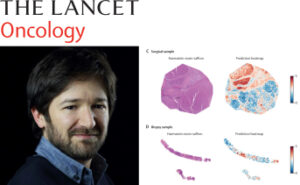 In a study published in The Lancet Oncology and directed by Prof Julien Calderaro, IMRB's Pawlotsky team, researchers from the APHP, UPEC and the Cordeliers Research Centre show that Artificial Intelligence applied to digital histological slides of liver cancer can predict progression-free survival in patients treated with atezolizumab-bevacizumab.
This innovative approach could be used to develop rapid and inexpensive biomarkers for targeted therapies. The authors also combined Artificial Intelligence with spatial transcriptomics technologies to better understand the molecular characteristics associated with the predictions.
This methodology could be applied to other cancers or diseases and improve our understanding of the biological mechanisms that determine responses to treatment.
Access to the article published in The Lancet Oncology on 8 November 2023 (Fulltext access by Insermbiblio)
Read the news on the APHP newsletter
Read the news on France Info